Weekly eNews: February 7, 2019
Dear FIRSTNAME,
We hope you will join us this Sunday, February 10th, at 6:00 p.m. in the Bailey Family Center for the Arts for the annual Academy Awards Talent Show. All proceeds benefit the Class of 2019 Senior Endowment. Tickets are $5 pre-sale and $8 at the door. This year, we are lucky to have a special performance by Robin Zander and his daughter, AHN senior, Robin-Sailor Zander. Tickets are available here. 
Sincerely,
Art Raimo
President
Dominican Republic Shoe Drive
The DR mission trip is hosting a sock and shoe drive now through February 23rd. They are collecting close-toed shoes, sandals, and socks. Donation bins are in the high school foyer and in central locations around the elementary and middle schools. All donations are appreciated!
Summer on Bayshore Registration Open!
From cooking and crafting to robotics and athletics, there is something for every kid at Summer on Bayshore! This year's programs span seven weeks and we can't wait to get started on the fun. Click here to see the camp offerings. 

Scholastic Book Fair
Our Scholastic Book Fair is coming February 8th-11th! The fair will be set up in the 1st floor west STEAM Commons in the Middle School building. We are excited to have visitors in the space and will need to stick to assigned visiting hours in order to minimize disruptions to the ongoing classes. Please click here to see the schedule for your child's visit.
JNFL Results
Congratulations to the following students on placing at their recent JNFL meet!
Mairi S.(1st in Individual Drama)

Lily H. (1st in Impromptu)

Olivia B. & Olivia L. (2nd in Duo Drama) 

Rowan A. (5th in Impromptu)

Giuliani S. (5th in Poetry)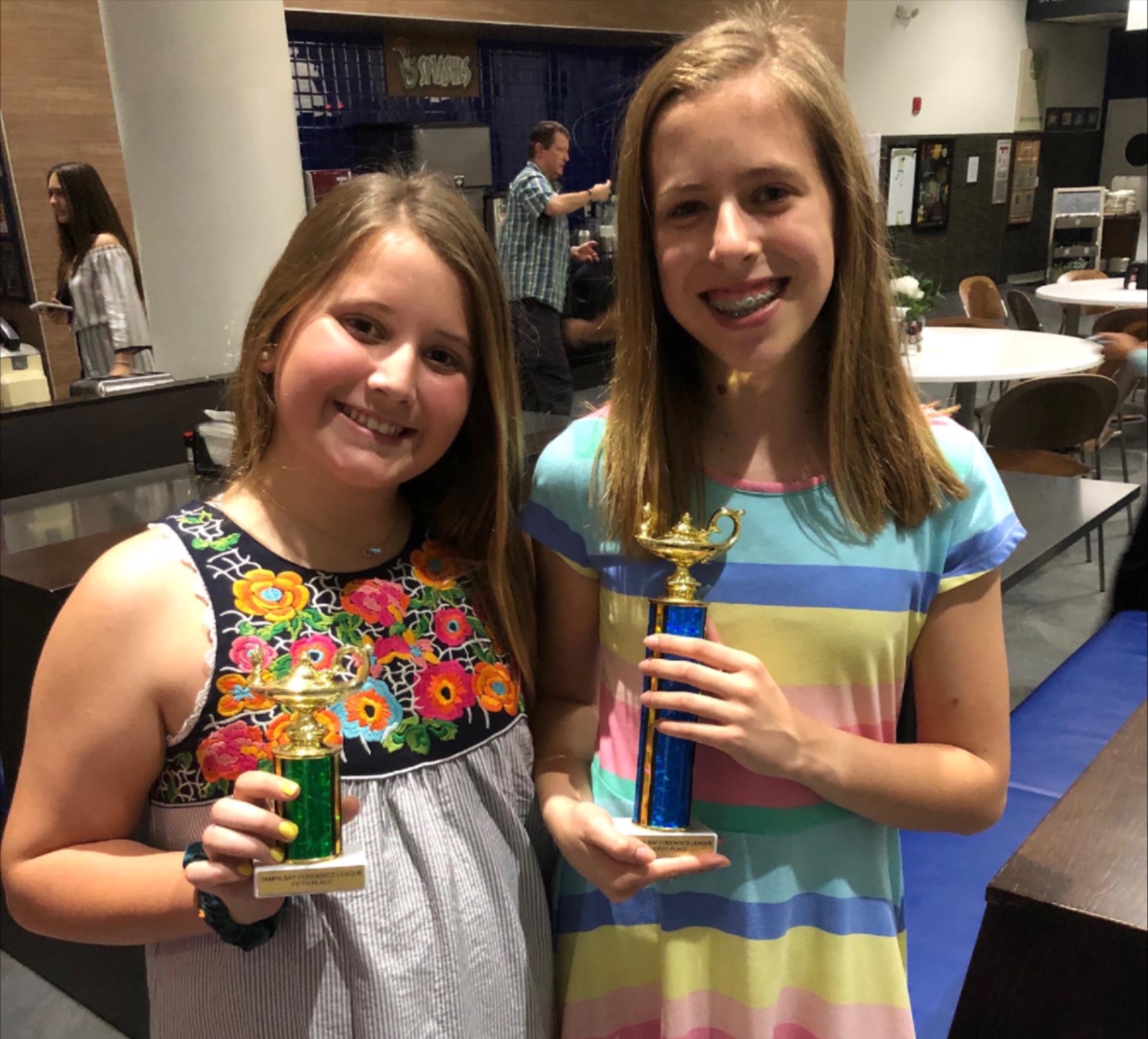 On Friday During Advisory, the High School Administration Will Review the School's Lockdown and Safety Procedures With the Girls, as Well as Prom Details.
Esse Quam Awards
Each quarter, the freshman teachers choose students for the Esse Quam Videri award. This award is given to the freshmen who most closely exemplify Academy's motto, Esse Quam Videri, which means "to be, rather than to seem." Congratulations to Maeve M., Arianna C., and Paige M. for receiving the award this quarter!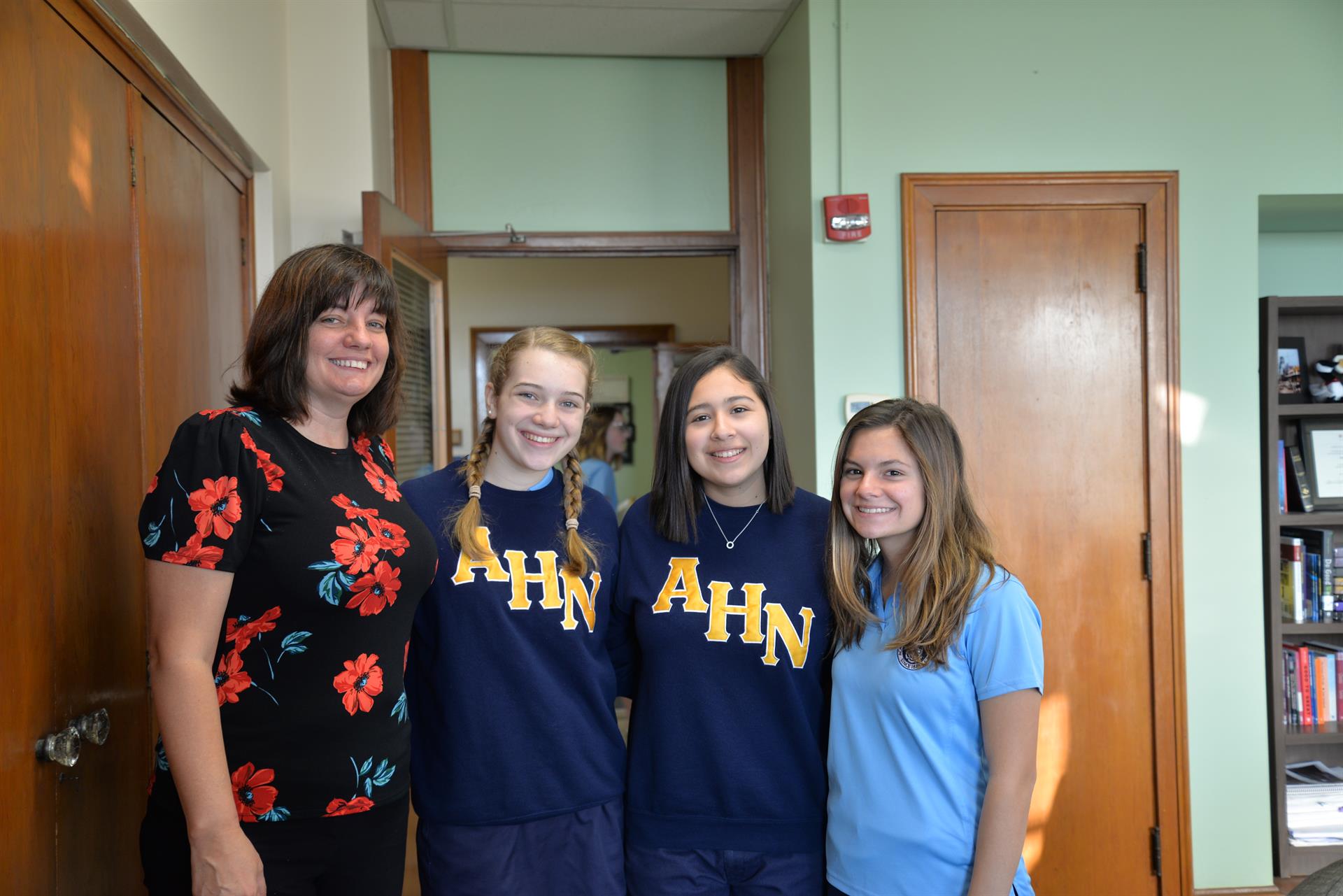 Speech and Debate to States!
AHN juniors Chloe M. and Mei L. have advanced to the Varsity States competition for the Florida Forensic League after their successful performances at the FFL Region 3 Speech and Debate tournament. Chloe did a Humorous Interpretation piece  and Mei performed a Program Oral Interpretation piece. Congratulations and good luck!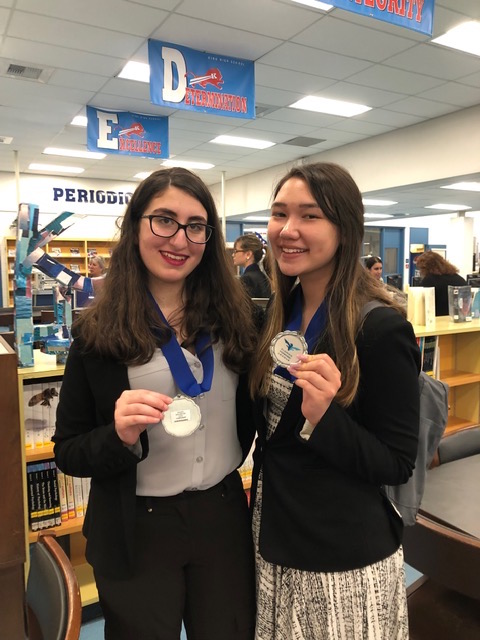 Join Us at 7:00 p.m. Tomorrow Night at Berkeley To Cheer on the Varsity Soccer Team as They Play in the Region Semi-Final! Go Jags!
National Signing Day
Congratulations to the three Academy seniors who committed to continuing their athletic careers at National Signing Day! Emily A. will play soccer for Belmont, Brianna B. will play volleyball for Barry and Caitlin N. will play tennis for Middlebury. The Academy is proud of these athletes' effort and dedication on and off the court. Go Jags!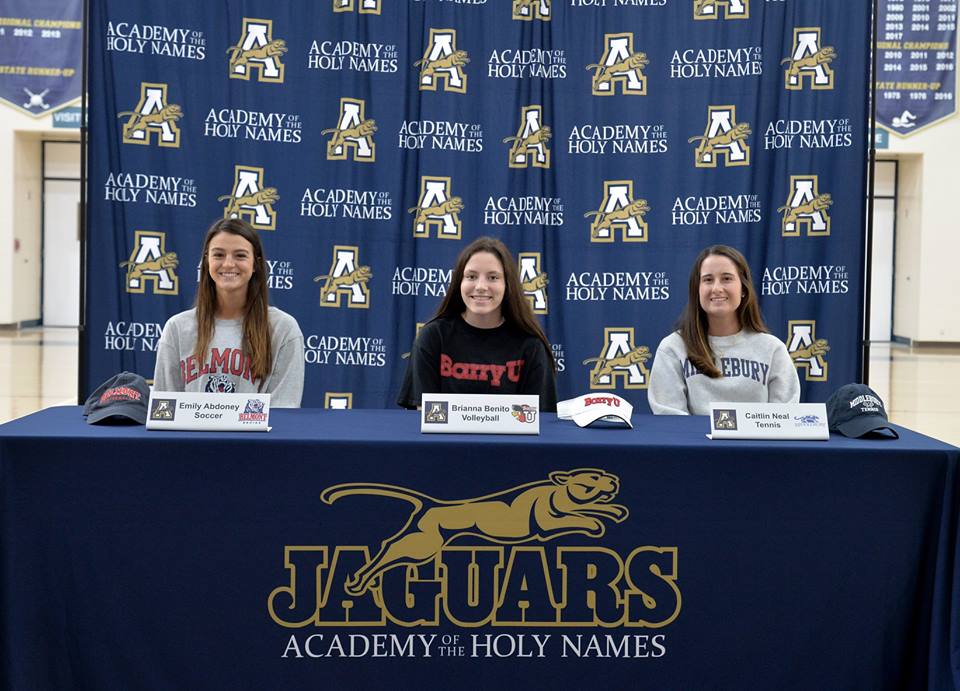 Jaguarettes Perform at USF
Join the AHN community in cheering on our high school Jaguarettes as they perform the halftime show at the USF Women's Basketball Game against UCONN on Monday, March 4th! The game begins at 7:00 p.m. at the USF Yuengling Center. Click here to purchase tickets for the game.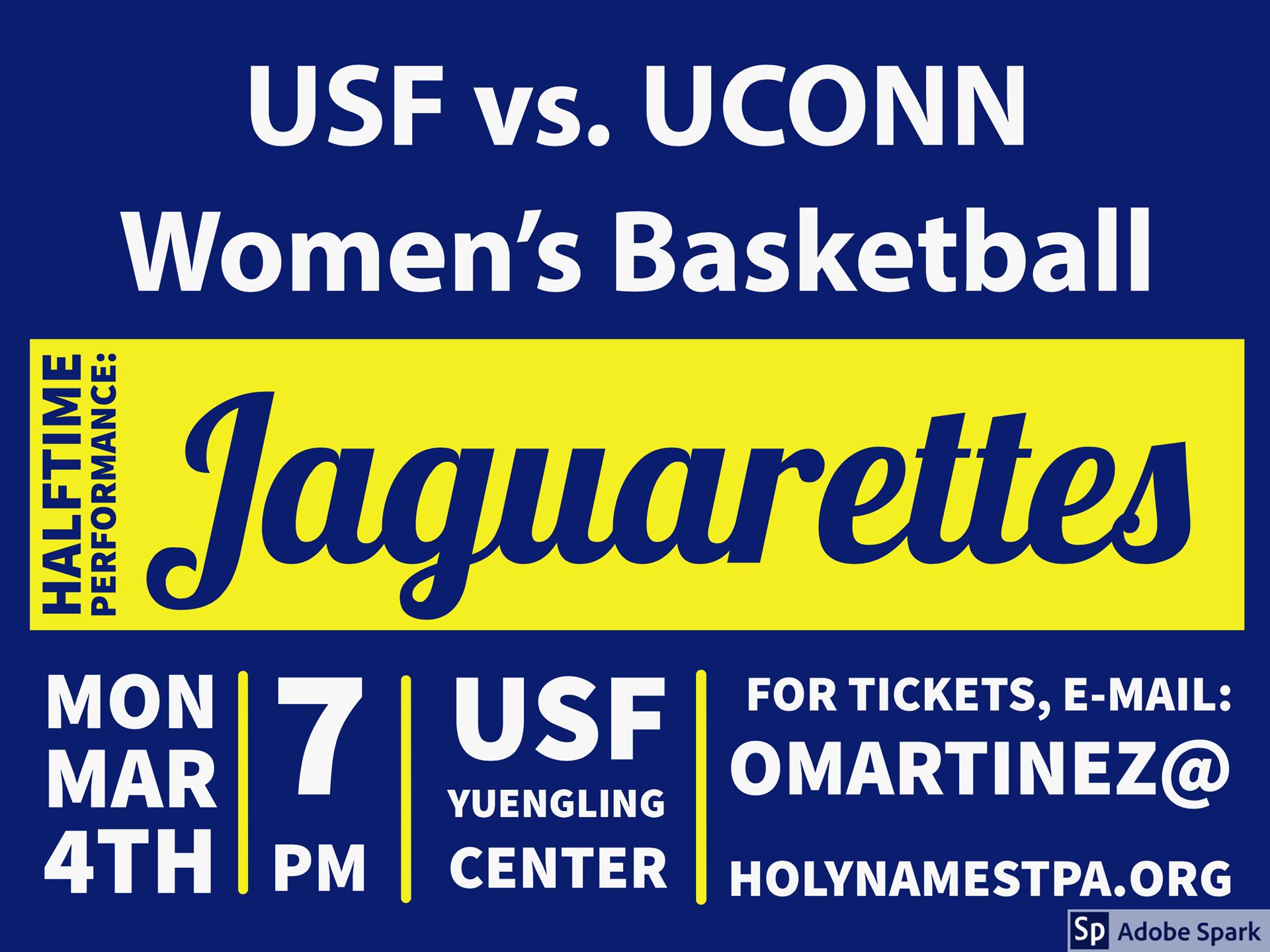 Cal Morris Live in Concert!
The Academy of the Holy Names is excited to present classically trained violinist Cal Morris on Friday, March 1st. Morris' music displays a deep love of symphony orchestra and cinematic soundtracks, mixed with modern millennial and current music. All proceeds benefit the Annual Fund. Click here to learn more about Morris and to purchase tickets.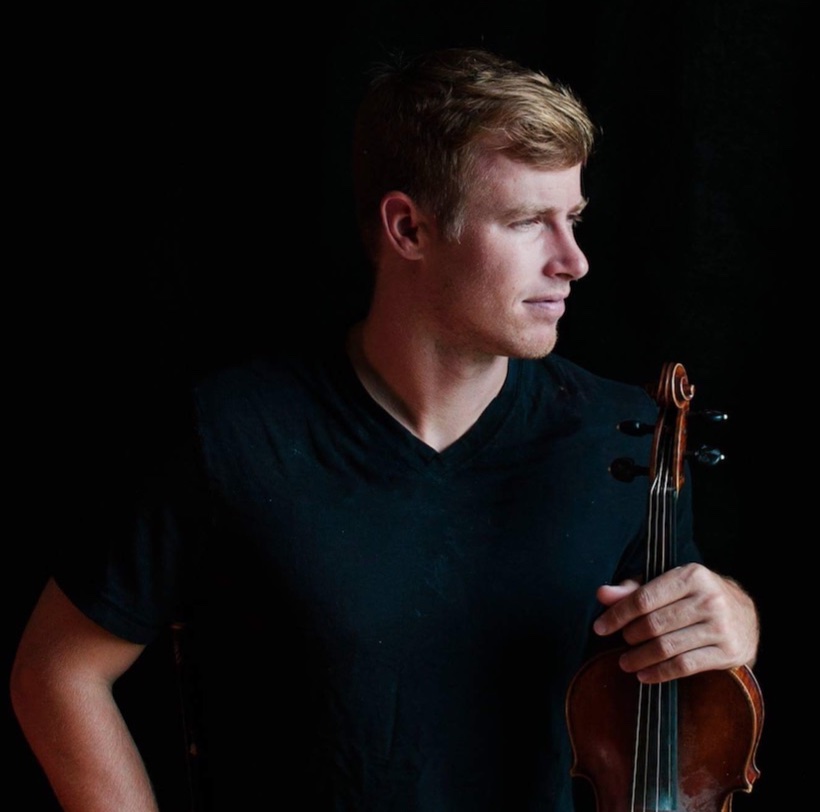 Black and White By the Bay

Have you purchased your auction "Mystery Bag" tickets yet? Click here to try your luck! We also have two upcoming Wine Wall events where you can help AHN by donating a bottle of wine. Join us on February 20th from 6:30-8:30 p.m. at Why Not Boutique for a "Wine Wall and Shop" event. Please bring a bottle of wine valued at $25 or higher! Can't make it? Click here to donate to the wine wall today!