Weekly eNews: September 27, 2018
Pardon our errors. Please refer to this issue of the e-news.
Dear FIRSTNAME,
Next week is a special week at the Academy as we will celebrate the Feast Day (and birthday!) of our foundress, Blessed Marie Rose Durocher. This year, the Academy is honoring Marie Rose with Rose Week. Both divisions will participate in activities throughout the week to honor the Sisters of the Holy Names and celebrate their charism. Our Elementary students have an activity planned but I don't want to spoil the surprise for some of our readers. The High School will have a special convocation to hear from the students who attended the SNJM Youth Justice Forum over the summer, have lunch with the Sisters, and hold a backpack drive for migrant students. The highlights of the week will be Spike & Splash on Wednesday evening, and of course, Mass on Friday, which you are welcome to attend.
Next week we will also host our first Coffee Talk, and appropriately the subject is Faith. I invite you to the Chapel on Wednesday from 9:00-10:00 a.m. to hear a presentation from Sr. Ann Regan and Sr. Mariellen Blaser on the vision of Blessed Marie Rose and the history of the Sisters in Florida. You'll also be treated to a sneak peak of the new Key West exhibit in the Holy Names Heritage Center Cronen Gallery. If you are able to join us, please click here.
Sincerely,
Art Raimo
President
PAF Phonathon Starts Sunday
The Parent Annual Fund phonathon begins this Sunday evening. Parent volunteers will be calling to ask you to contribute to the PAF. No gift is too small--our goal is 100% participation. Pre-K is in the lead for participation, followed closely by 8th grade, 5th grade and 1st grade. Help us gain momentum! Giving online is secure and easy. The PAF committee is also looking for volunteers to help make calls Sunday; click here for additional information.

Spike and Splash is this Wednesday! 
Mark your calendars! Spike and Splash for the Cure is this Wednesday, October 3rd.  Along with raising money through ticket sales, there will also be a high school bake sale benefiting the cause on Tuesday, October 2nd and Wednesday, October 3rd. Please come cheer on our athletes as they show their support for those affected by breast cancer and pediatric cancer. Students who purchased a 2018 Spike and Splash t-shirt can wear them on Wednesday with uniform bottoms.
JV Volleyball vs. Tampa Catholic (gym), 5:00 p.m.

Swimming & Diving vs. Plant High School (pool), 6:30 p.m.

Varsity Volleyball vs. Tampa Catholic (gym), 6:30 p.m.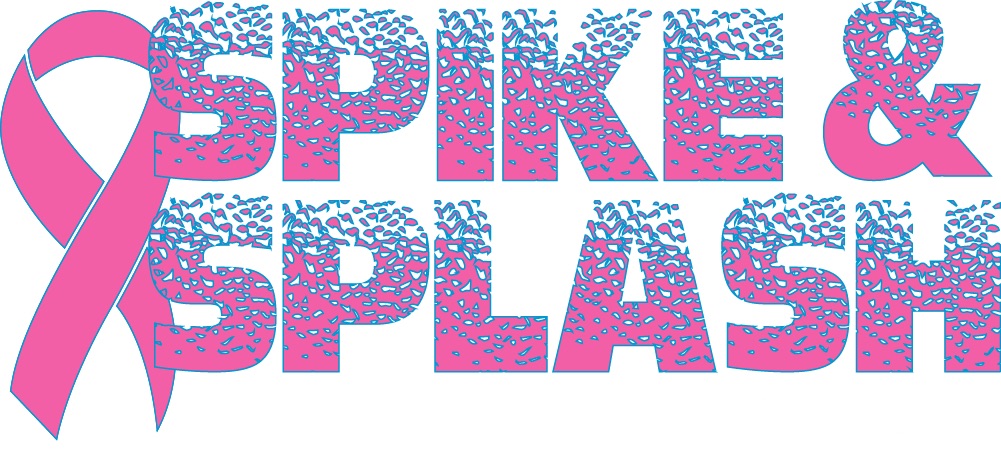 AHN Night at the Lightning
Show your support for the Bolts and AHN at AHN night at the Lightning on Saturday, November 10th. Tickets are $55, which includes snacks before the game and an AHN/Lightning hat! Act fast, only 125 tickets are guaranteed at this price. Click here to purchase your ticket now! The promo code is AHN.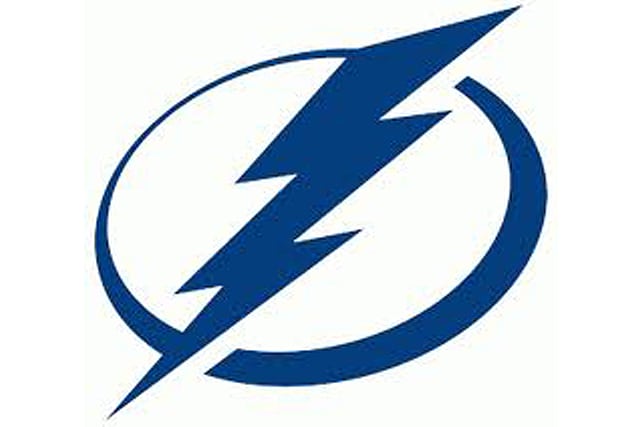 Fruits of the Holy Spirit
Our PreK-2nd graders gather in the chapel throughout the year to lead each other in prayer, taking turns as grade levels. This week, the first grade classes led a beautiful prayer service for their peers! They talked to their classmates and parents about the fruits of the Holy Spirit: love, joy, peace, patience, kindness, goodness, faithfulness, gentleness and self control!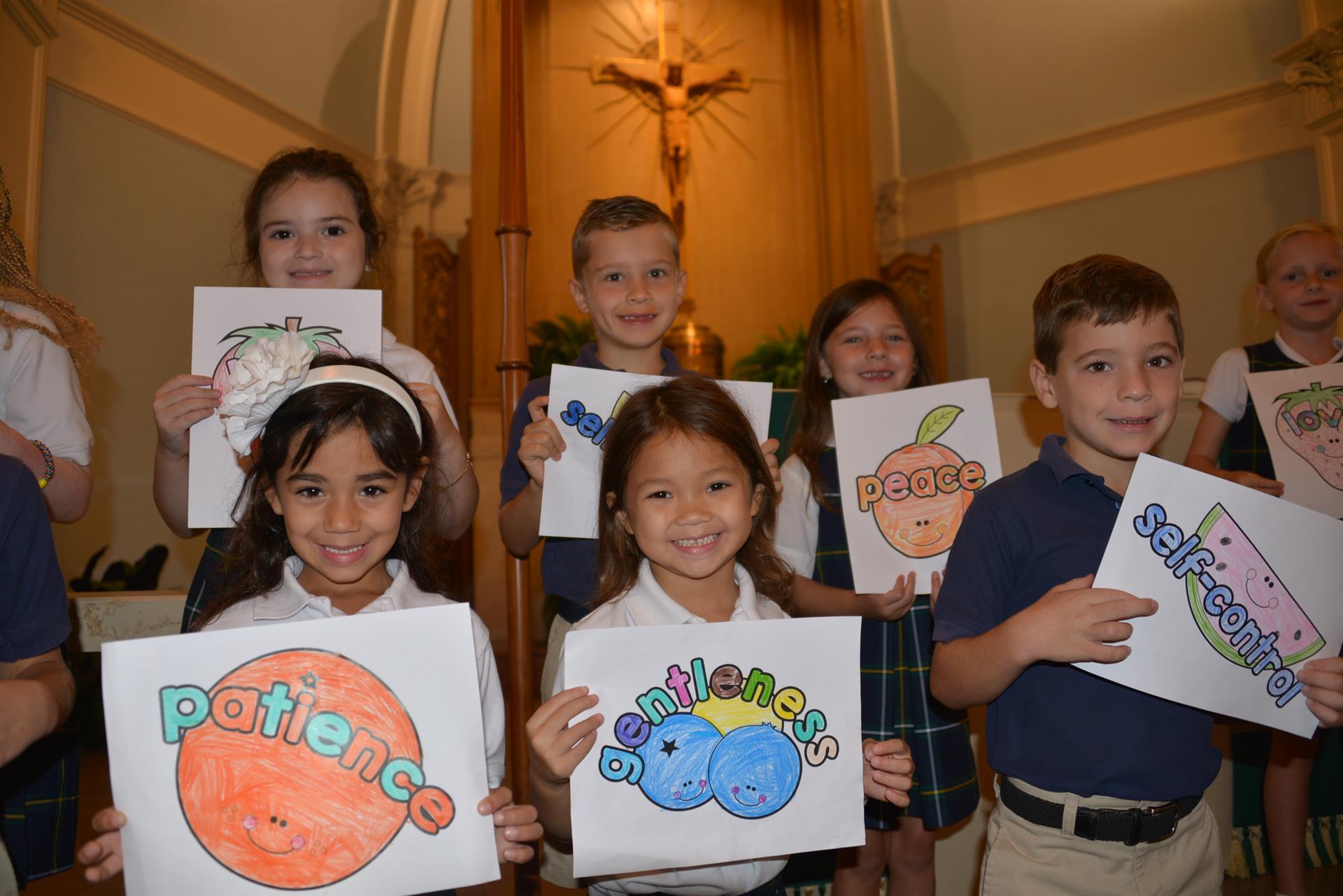 "Start With Hello" Week
The elementary school is currently participating in Start with Hello Week!, an effort to diminish social isolation among the student body and foster a culture of inclusion at AHN. Throughout the week, the students are wearing name tags to promote interaction with new classmates, sitting at mixed up lunch tables while playing icebreakers, and participating in group activities with their buddies!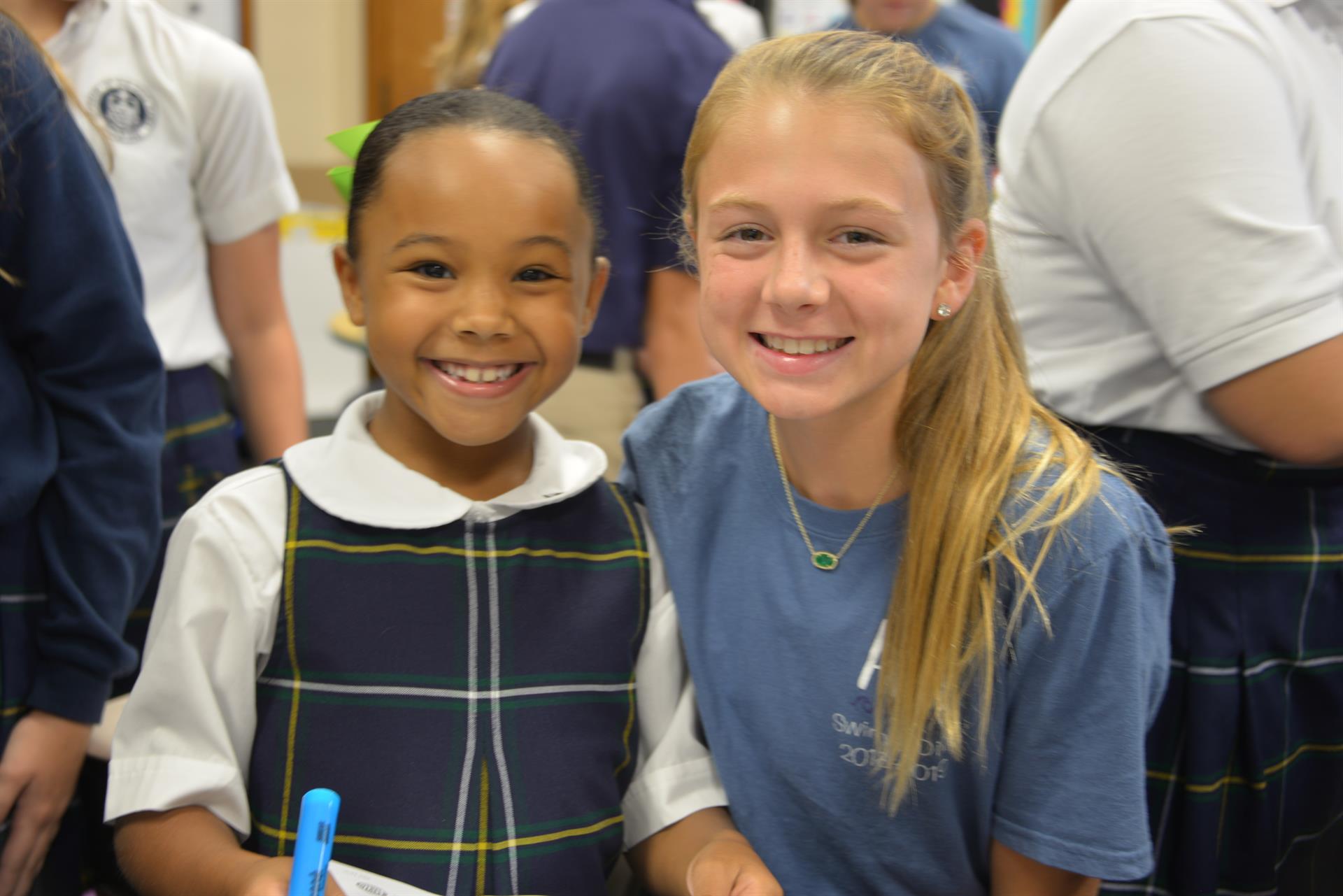 Father-Daughter Dinner Dance Tickets
Tickets for the annual Father-Daughter Dinner Dance will be on sale next week. Tickets are $35 per person. Students should complete a table setting form and return ticket money to Mrs. Van Pelt. The dance will take place on October 26th in the Brady Center. This year's theme is Hollywood; costumes are encouraged. Pictures start at 6:30 and dinner is served at 7:00.
There is a Mandatory Mission Trip Meeting On Monday, October 1st in the Brady Center at 3:00 p.m. All Those Who Are Interested In Attending a Trip Must Be In Attendance.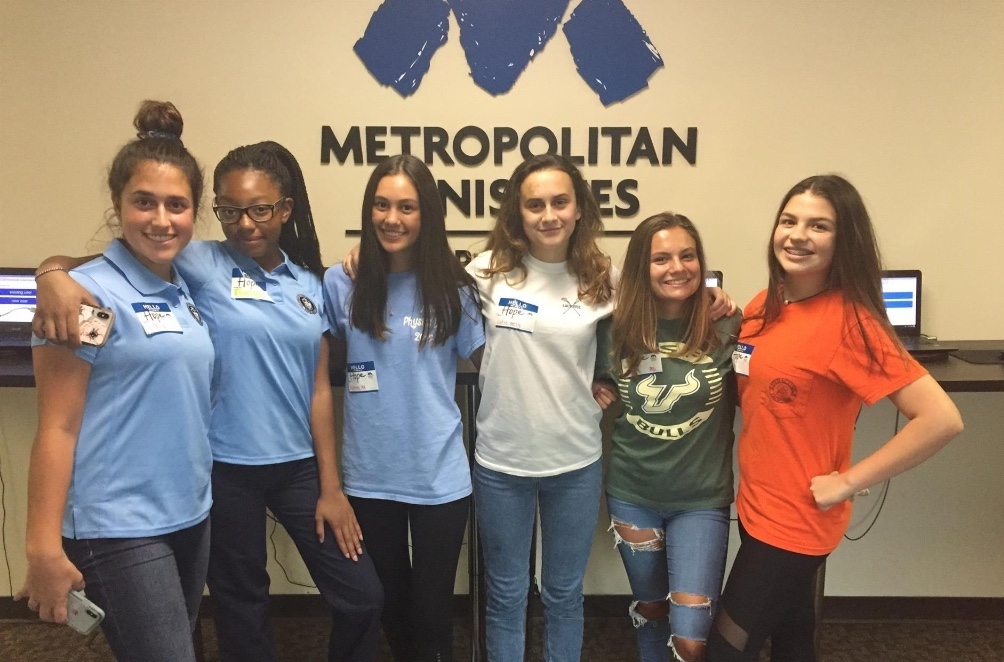 Volunteering at Metropolitan Ministries!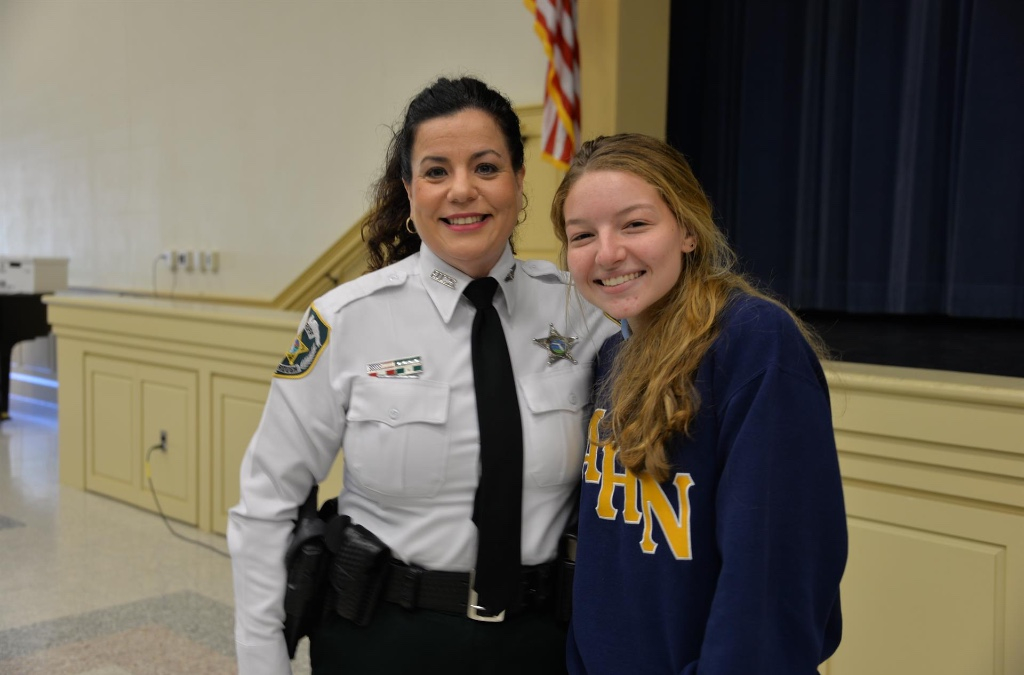 Marilyn Alvarez, HCSO Hispanic Liaison, visits for Hispanic Heritage Month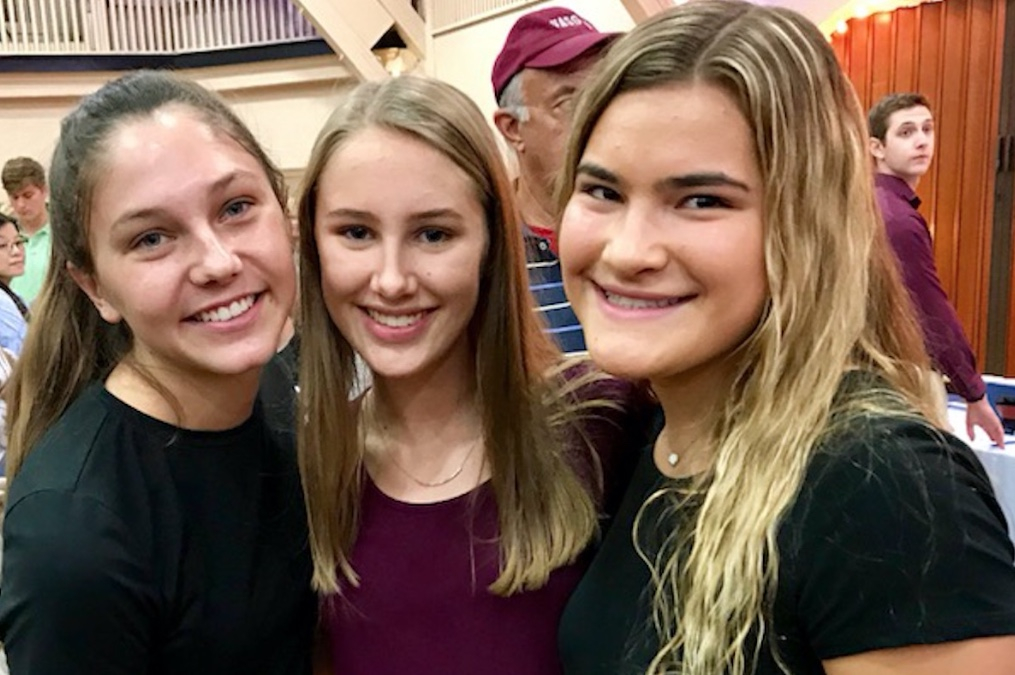 Students talk to college reps at the BAIS College Fair.
Dads, Enjoy a Breakfast Date With Your Kids
The Dads Club is hosting the 3rd grade for breakfast at Goody Goody on Wednesday, October 3rd, starting at 7:00 a.m. Remember, school starts at 8:45 on Wednesdays! Head to Hyde Park for quality time and to meet other dads and kids in your child's grade. The Dads Club will give out special gifts to the kids and you may just see our mascot there!
Trivia By the Bay
The Dads Club is hosting the second annual Trivia By the Bay! Form your team now and see if you can beat the reigning champs and have your name on display on the coveted trivia plaque. Prizes awarded to the top three teams. Dinner will be provided and babysitting is available for children 4+. BYOB! Click here to register by October 1st.
Elementary
Tuesday, October 2nd
-Auction Meeting, 8:30-9:30 a.m. (3rd Floor Board Room)
Wednesday, October 3rd
-Spike & Splash
-3rd Grade Dads/Kids Breakfast, 7:00 a.m.
(Goody Goody, 1601 W Swann Ave, Tampa, FL 33606)
-Coffee Talk - Faith, 9:00-10:00 a.m. (Chapel)
Thursday, October 4th
- Mothers Association Meeting, 8:30 a.m.


Friday, October 5th
-All-School Mass Feast Day of Blessed Marie Rose, 8:00 a.m. (Brady Center)
-Jag Shop/Clothes Closet open, 9:00-10:00 a.m. (MacDill House)
High School
Monday, October 1st
-Start of Rose Week for BMR
-Meeting for all Potential Missionaries, 3:00 p.m. (Brady Center North)
Tuesday, October 2nd
-Auction Meeting, 8:30-9:30 a.m. (3rd Floor Board Room)
Wednesday, October 3rd
-Spike & Splash
-Coffee Talk - Faith, 9:00-10:00 a.m. (Chapel)
Thursday, October 4th
-Mothers Association Meeting, 8:30 a.m.
-Bright Futures Registration, 9:20 a.m.
Friday, October 5th
-All-School Mass Feast Day of Blessed Marie Rose, 8:00 a.m. (Brady Center)
-Jag Shop/Clothes Closet open, 9:00-10:00 a.m. (MacDill House)